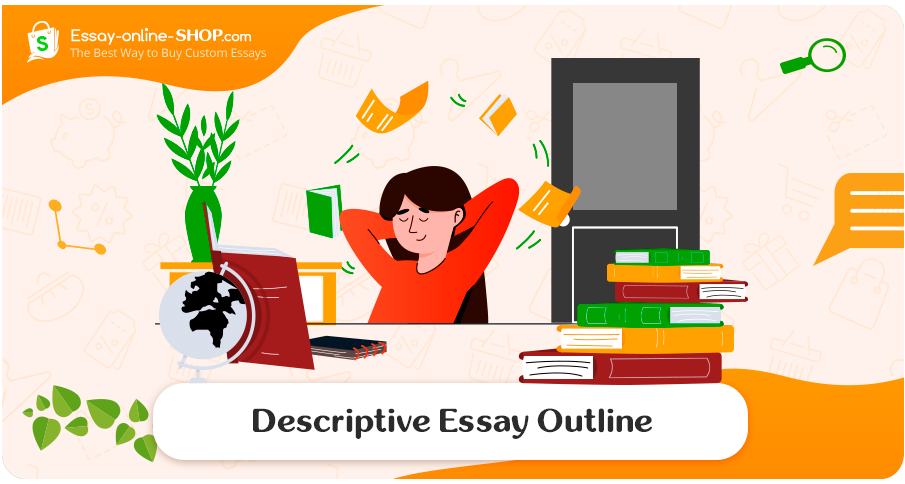 When you decide to write a Descriptive Essay, you should think about an outline first since it can ease your work later. Many academic writers recommend composing a basic outline before writing the paper. Without doubts, a well-written outline will assist you in preparing a descriptive essay without putting extra effort in it.
A descriptive essay outline should include the following:
Introductory part
The body of the essay
Conclusion
Best Essay Writing Services
Need Custom Writen Paper? We'll Write an essay from scratch according to your instructions
Plagiarism Free
Prices From Only $10.50/Page
Before drawing up an outline, it is necessary for you to select the topic you are going to explore. In fact, anything can be the subject of the descriptive essay. As a result, you can choose any person, thing, place, event or even personal experience to write about. Just remember that it is the main focus of the paper, and thus, every issue you intend to add to the outline has to be tightly connected with the topic.
When the topic of your paper is chosen, it is essential to write down all the pointers that you can include in your descriptive essay. Undoubtedly, you can be worried that your essay has to obligatory cover all the issues indicated in the outline, even though not all of them fit. However, that is not true. Before writing an actual essay, you should look over all the thoughts and ideas and point out those that are directly related to your topic.
Before preparing your outline, you can examine the example provided below.
An outline for the descriptive essay
First paragraph:
Introductory sentences with the attention grabber;
Description of the chosen event;
Description of the emotions and feelings evoked by this event;
Providing extra sensory details.
Second paragraph:
Description of people, parties or organizations taking part in the event;
Providing various facts to make the description more detailed;
Use of vivid language to emphasize sensory details.
Third paragraph:
Description of other events connected with the event you are talking about;
Providing different facts;
Use of vivid language to emphasize sensory details.
Fourth paragraph:
Restatement of the emotions and feelings aroused by the event;
Providing feelings in detail;
Concluding the importance of the event.
Next Steps

Free Extras
FREE plagiarism report(on request)
FREE revision (within 2 days)
FREE title page
FREE bibliography
FREE outline (on request)
FREE e-mail delivery
FREE formatting
We Guarantee
Quality research and writing
24/7/365 Live support
MA, BA, and PhD degree writers
100% Confidentiality
No hidden charges
Never resold works
100% Authenticity
Paper Format
12 pt. Times New Roman
Double-spaced/Single-spaced papers
MA, BA, and PhD degree writers
1 inch margins
Any citation style
Up-to-date sources only
Fully referenced papers
To write an outline successfully, you have to find and analyze much information related to your topic to come up with good thoughts. Without doubts, it is a time-consuming and tiring process. However, some methods can help you make it easier. For example, you can brainstorm different ideas or surf the Internet. These days, you can find a lot of useful information on the Internet available for free.
When your outline is finished, you are recommended to arrange all your ideas in a logical order. First of all, you should attract readers' attention presenting some interesting information, as well as vivid details. In such a way, readers will have an opportunity to create the image and understand what you are talking about in your essay. Provide an exciting description of your subject. The appeal to human senses and use of various speech figures (epithets, metaphors, personifications, simile, hyperbolas, and symbolism) will help you make readers interested in your topic.
You should pay special attention to the body of your descriptive essay. It is the part where the pointers indicated in the outline are required to be properly covered. As a rule, each point is discussed in a separate paragraph. Thus, the length of the paper is completely dependent upon the number of ideas you are going to explore in your essay. In addition, there should be some special setting connecting you with readers. It will allow them to feel themselves being engaged in your story.

Strugling with your essay?
Ask professionals to help you!
When you have discussed every outlined pointer in detail, it is time to draw a conclusion. In the last part of the paper, you have to summarize all the information provided in the essay's body. However, you are not allowed to copy sentences from the main part; you have to restate everything in your own words. Do not include new data in conclusion.
Taking into account all the above-mentioned information, it is possible to say that an outline is helpful in arranging numerous ideas. A well-organized descriptive essay will surely impress readers, thus achieving its goal. Additionally, owing to an outline, every reader will be capable of understanding the hidden message of the writer presented in the essay.
If you need custom written Descriptive Essay you always can order it on Essay-Online-Shop.com and save your time for having fun.