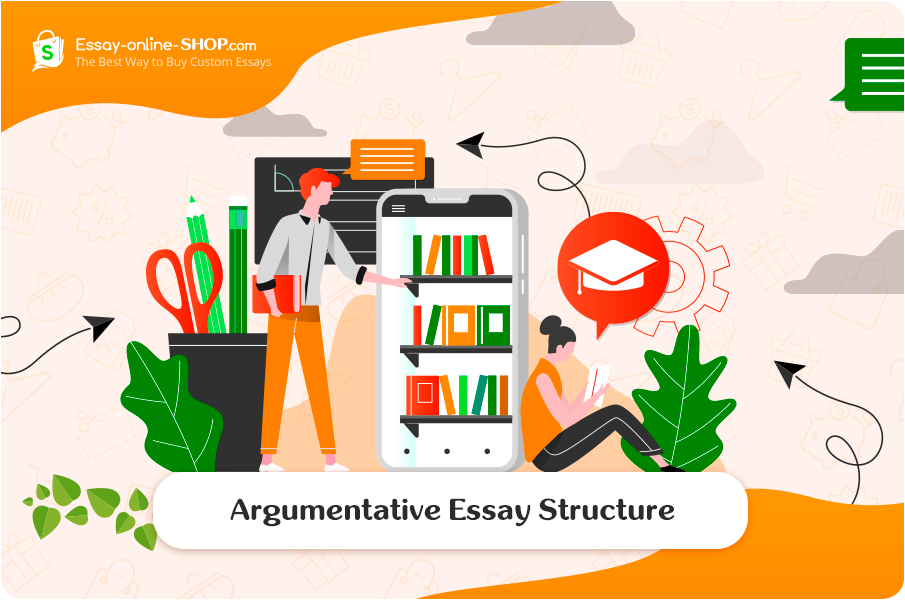 It may be a very demanding task to write an argumentative essay. You may think why it is so challenging. The main reason for it is that you will not have to inform readers but persuade them. Thus, an arguable topic should be chosen. The writer should present all the benefits and drawbacks before exposing a reader to making the final decision.
There is always a chance to buy a custom essay online at a low price. If you decide to write an argumentative essay on your own, you should read information on its structure and main characteristics. The most common structure is a five-paragraph essay.
It is considered to be the most popular structure of such type of essay. It incorporates the introductory paragraph, main body, and conclusion. Introductory paragraph serves to present the topic you will discuss, main body paragraphs present the arguments and other evidence to prove your standpoint, and conclusion is a small summary of the whole paper and its claims. It is the most common form of an essay, but writer is welcome to adjust it to his/her personal needs and add new paragraphs. Let us focus on every paragraph more closely.
Best Essay Writing Services
Need Custom Written Paper? We'll Write an essay from scratch according to your instructions
Plagiarism Free
Prices From Only $12.99/Page
Introduction of Argumentative Essay
It is the first paragraph in an essay that presents the thesis statement. Moreover, it reveals some general facts to introduce the topic of the paper. Every thesis statement should include the following:
Be narrowed and focused on one matter;
Arguable since the purpose of the essay is to persuade;
Make readers interested in the chosen topic;
Be specific.
The length of introduction can vary – it can take one small paragraph or the whole page. Remember that introduction should always be effective since its quality influences the fact whether readers will proceed reading the essay. You should present catchy and interesting ideas that will persuade readers that your essay deserves to be read till the end.
The Main Body of Argumentative Essay
Usually, it comprises three paragraphs that reveal your understanding of the problem in a logic and clear way. There are two possible ways of organizing your ideas in three main body paragraphs:
Revealing possible views on the matter and stating your personal standpoint at the end of the essay. Such structure may be more appropriate if readers are not aware of the issue you discuss.
Revealing your standpoint at the beginning of the essay. Such presentation of ideas can be more appropriate if readers know everything about the topic.
While writing an argumentative essay, you should provide enough evidence and arguments to prove your point as well as find appropriate articles, statistic data, etc. You should reveal your understanding of the issue in a logical and coherent way.

Free Extras
FREE revision (within 2 days)
FREE title page
FREE bibliography
FREE outline (on request)
FREE e-mail delivery
FREE formatting
We Guarantee
Quality research and writing
24/7/365 Live support
MA, BA, and PhD degree writers
100% Confidentiality
No hidden charges
Never resold works
100% Authenticity
Paper Format
12 pt. Times New Roman
Double-spaced/Single-spaced papers
MA, BA, and PhD degree writers
1 inch margins
Any citation style
Up-to-date sources only
Fully referenced papers
Usually, there are two types of arguments in such type of writing:
Deductive reasoning – writer usually presents general ideas on the topic and specific arguments in a concluding paragraph.
Inductive reasoning – writer presents specific examples at hand, and conclusion is written in a general manner.
Remember! You should always present advantages and disadvantages of the issue in an objective manner regardless of your personal attitude towards the matter. You should not be emotional but present obvious facts. The most important element to be successful in argumentative writing is to research all possible facts about the issue and present them in a realistic way so that the reader would believe in the trustworthiness of your evidence.
Transitions between Paragraphs
Every essay should contain transitions that will make the text readable and logical. Readers should understand your arguments, which mean that the comprehensible structure of the essay and its smooth flow are required. All your ideas should be understandable for the readers.

Struggling with your essay?
Ask professionals to help you!
Conclusion
Usually, it restates thesis statement in a paraphrased manner. This paragraph is very important since it must fully convince your readers that presented arguments are valid and trustworthy. Moreover, it should make readers more interested in further research on the issue.
Remember! Every conclusion should be like final writer's words that should be memorable and persuasive in a way to make readers accept your point of view.
Buy a custom written argumentative essay at a low price at Essay-Online-Shop.com and make our writers create the excellent essay for you!